Looking for the perfect spot to grab lunch in Liberty Village? Look no further! In no particular order, I've compiled a list of the top lunch restaurants in the area that are sure to satisfy your midday cravings.
Kibo Sushi Liberty Village – This local sushi chain has a cozy spot in Liberty Village where you can indulge in their signature dynamite maki, Kibo signature roll, or tempura bento. Sushi sooo good.
Impact Kitchen Liberty Village – This popular gluten-free spot is a must-try for paleo and vegan eats, with power bowls, burgers, and their bestselling paleo power cookie. Stay healthy my friends.
imPerfect Fresh Eats Liberty Village – If you're looking for healthy or vegan options, this spot lets you create your own grain and smoothie bowl, as well as enjoy fresh smoothies made from real fruits. Yummy.
Mandy's Salads at Kitchen Hub – This offshoot of a gourmet salad restaurant serves up classic and signature salads like the lumberjack, featuring cherry tomatoes, bacon, deli turkey, and roasted chicken on a bed of romaine lettuce.
The Islands Caribbean Cookshop – This top Jamaican restaurant in Toronto serves everything from marinated jerk chicken to eight different types of roti, plus fried and BBQ chicken and sides like oxtail, plantain, and ackee and saltfish. Everything gonna be irie.
OEB Breakfast Co. – Liberty Village has no shortage of brunch spots, and this one is known for its hardwood smoked bacon, blueberry chicken bangers, and rosemary ham, plus gluten-free, vegetarian, and vegan options. Get there early as the line gets long on the weekends.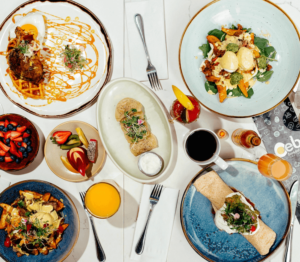 Aloette Liberty Village – This bistro has two locations in Toronto and serves classic comfort food with a twist, including the signature Aloette burger, crispy fried chicken with yuzu honey, wedge salad, and lemon meringue pie.
Pai at Kitchen Hub – This restaurant features Chef Nuit Regular's Northern Thai cuisine, including khao soi, grabong (squash fritters), and green papaya salad platters, plus signature pad thai.
Arvo Liberty Village – This classy coffee house has two locations in Toronto and serves a wide variety of brunch items, pastries, and caffeinated drinks. The Liberty Village location has a 38-seat patio for warm weather sipping. They've also got great coffee by day and awesome wine by night.
Burger Drops – This Toronto spot specializes in smashburgers, with original and American cheeseburger options (plus a veggie option) and classic chicken nuggets and sandwiches on the menu. Get smashed now!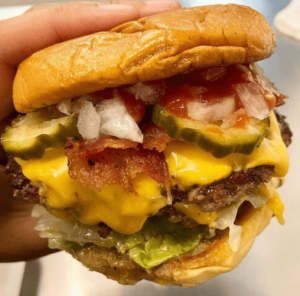 Skcookks – This Nigerian restaurant, which began in 2017 in Etobicoke and has now moved to Jefferson Avenue, serves up home-style Nigerian dishes like ayamase, eforiro, and egusi, all available for takeout.
Liberty Village Market and Cafe – This market and cafe crossover offers everything from brunch to sandwiches, soups, and caffeinated drinks, plus outdoor seating when the weather is nice. Pretty decent eats that won't break the bank.
Chiang Mai Liberty Village – Looking for thai food? This Thai restaurant offers cocktails and modern takes on traditional dishes like green curry, tom yum soup, and pad Thai.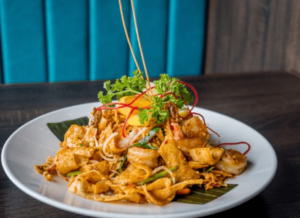 Mildred's Temple Kitchen – Inspired by the character Mildred Pierce and known for its amazing lunch and brunch options like scones, croissants, and sandwiches. They also have a "b'lunch" menu with options like Caesar salads and grilled cheese sandwiches.
Brodflour – Try thr fresh baked goods. This bakery mills its own flour in-house and has everything bread-related you could imagine, from bread and spreads to sandwiches and pizzas. Plus, the modern and homey interior has a ton of seating for you to enjoy your freshly-made flour pizza.
Fat Bastard Burrito Co. Liberty Village – with multiple locations in and around Toronto, this is the spot for some of the best burritos, quesadillas, and tacos in the city. Try flavours like tequila lime chicken tacos or fish tacos.
Maurya East Indian Cuisine Liberty Village – A family-owned restaurant known for its amazing Indian roti, but they also have vegan and vegetarian options like potato, channa, and mixed vegetable curries. Mmmm.
Ono Poke Bar – If you're in the mood for something healthy and inspired by Hawaiian and Asian cuisine, check out their poke bowls (pronounced Poh-Kay) and sushi burritos. Signature flavours include classic salmon and spicy mango, or you can create your own bowl.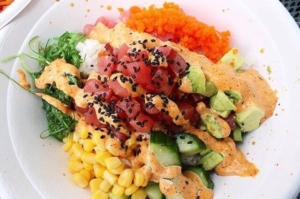 School – This all-day bakery, cafe, bar, and restaurant has some seriously fun brunch options like krispy krunchy french toast, golden hash brown poutine, and black n' blue flapjacks. They also have an industrial space for the winter and a patio for the summer. Get there early too as long lines are pretty common, especially on weekends.
Merci Mon Ami – One of Liberty Village's original spots, this spot serves daily specials of sandwiches, burgers, and tacos. They have vegan, vegetarian, gluten-free, and keto-friendly options that can be enjoyed at communal tables inside or on the front patio in the summer.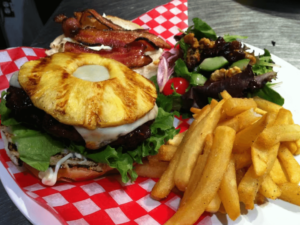 Whatever you're craving, Liberty Village restaurants have something amazing to tempt every taste bud. Enjoy!